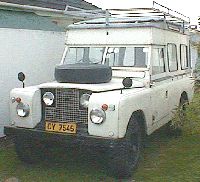 Long ago, my grandfather needed a car, and for some reason he decided to buy this Land-Rover. I remember that it was cheap, and that they had to pull it with a tractor, a few times around the barn, to get it started.

My father built the hard-top, making it high enough for him to stand up inside. As you can see, he's a bit of a shortshit :-) (I'm 6'2" and my brother is 6'4"-ish)

This is probably my next large LR project - she needs to get a new firewall, be rewired, and the hardtop has to be stripped, welded, galvanised and reassembled.