The Microbox II 6809 Single Board Computer
From the advert:

Microbox II is a powerful 6809 based single board computer packed
with inovative features in an easy to build form.
Running under the Flex operating system it contains 60K of dynamic ram,
8K of eprom, high resolution text and graphic displays, up to 500 sector
ramdisc, up to 512 sector eprom disc, floppy drive controller, serial and
parallel I/O, real-time clock and eprom programmer.
An eprom disc that looks to Flex like a standard write protected drive
can be programmed with anything that would normally be on floppy -
including Flex itself. A ram disc that looks like a standard
unprotected disc acts as a very fast work disc. Support for two floppy
drives is also on-board.
Exceptional monochrome graphic capabilities are provided by a NEC7220A
graphic display controller which gives very fast drawing speeds through
hardware vector, circle, rectangle, pattern and area fill generation.
The Flex operating system can be booted from any standard system disc -
configuration is carried out automatically by the supplied firmware -
and all the usual software can be used.
Microbox II can be controlled from a standard serial terminal a serial /
parallel keyboard and video monitor or a mixture of both.

Specification:

68B09E microprocessor supporting 60K of dynamic ram and 8K firmware.
7220A graphic display controller supporting 128K of dynamic ram
partitioned as monochrome video display and ramdisc.
Text display of 84x24 or 108x24 characters. Or invent your own format.
Graphic display of 768x576 pixels. Very fast hardware vectors etc.
Composite video and seperate video / sync outputs.
Eprom disc using four 27128 devices. An eprom programmer is on board.
Floppy disc controller for 48 or 96 tpi single/double density drives.
Two RS232 serial ports with programmable baudrates, 50 - 19200 baud.
Centronics type parallel printer port.
Parallel keyboard port.
Battery backed real-time clock/calendar.
DIP switch selection of input source, output destination and autoboot.
Additional I/O capability via user expansion buss.
100's of Microbox II's currently in use worldwide.

The firmware includes system diagnostics, utilities, graphic primatives,
terminal emulation and auto-configuration that ensures that the board
will boot from any standard Flex system disc.
The software includes disc formatter, printer drivers, disc allocation,
alternative terminal emulators, eprom programmer routines, real-time 
clock support, graphics macros and demo, character set source and system
equates.

  *Flex is a trademark of Technical systems Consultants.

Let us just say that I was seriously in breach of the 10th Commandment when I became aware of this single board computer.

Fast forward to 2002, I met this fellow who had ordered and built a Microbox, and still had it lying around. I immediately bought it from him.

Like the TRS Color Computer and the Dragon, the Microbox uses the Motorola 6883 (74LS783) Synchronous Address Multiplexer (SAM). The CoCo and the Dragon are pretty much built according to the Application Note in the datasheet, using a 6847 to provide 16 lines of 32 characters text and up to 256 x 192 pixels in graphics mode.

Unlike the CoCo and the Dragon the Microbox II uses a NEC 7220 Graphic Display Controller instead of the 6847 CRT controller to give a maximum (monochrome) resolution of 768 x 576 -- bleeding edge 1985 technology (the Apple Macintosh debuted in February 1984 with a 512 x 342 pixel monochrome screen -- less than half the number of pixels and rave reviews).

To understand the Microbox (and for that matter the CoCo and Dragon) you need to be intensely familiar with the Motorola MC6883 / SN74LS783 SAM.

This is my Microbox II, in "as received" condition (except that I removed the monitor ROM to read the code, MON09 4.22 20.8.84 (2764, 8K). Someone stole the crystals out, I see.

The three jumpers between the 6809 and the SAM can configure the SAM to run from a 14.31818 or 16 MHz crystal as shown on page 12 of the datasheet. Standard configuration is to run it from an external 16 MHz clock from the 74LS00 in the bottom right-hand corner (IC14D).

The one strange thing about the Microbox is that the designer (Dave Rumball / Micro Concepts) did not place mounting holes anywhere on the PCB, so there's no easy way to bolt the PCB to a case. The shape of the PCB also doesn't fit into a modern PC case (the obvious choice, I think) but it does go into an old "AT" style case (the one with the runners for the floppies). The PCB is about 300mm x 240mm (12" x 9").
Connector pinouts
Keyboard (SK2)
Inner row
Pin
Outer row
D0
1
2
+5V
D1
3
4
GND
D2
5
6
GND
D3
7
8
GND
D4
9
10
GND
D5
11
12
GND
D6
13
14
GND
N/C
15
16
GND
/STROBE
17
18
GND
/RESET
19
20
-12V
Floppy disk (SK5)
Inner row
Pin
Outer row
GND
1
2
N/C
GND
3
4
N/C
GND
5
6
N/C
GND
7
8
Index
GND
9
10
Select 0
GND
11
12
Select 1
GND
13
14
N/C
GND
15
16
Motor On
GND
17
18
Direction
GND
19
20
Step
GND
21
22
Write Data
GND
23
24
Write Gate
GND
25
26
Track 0
GND
27
28
Write Prot
GND
29
30
Read Data
GND
31
32
N/C
GND
33
34
N/C
Expansion (SK10)
Inner row
Pin
Outer row
+5V
1
2
+5V
GND
3
4
GND
BA0
5
6
IC19 pin 6
/BRTS
7
8
BA1
BD1
9
10
BD0
BD3
11
12
BD2
BD5
13
14
BD4
BD7
15
16
BD6
BA2
17
18
BR/W
BA4
19
20
BA3
16MHz
21
22
BE
WDS
23
24
Q
RTC
25
26
LPEN
/IO2
27
28
/RDS
/IO1
29
30
/IOBUFF
/NMI
31
32
RST
/FIRQ
33
34
/IRQ
/TTLVID
35
36
VSYNC
GND
37
38
GND
-12V
39
40
+12V
I have no idea why IC19 pin 6 (which is part of the parallel keyboard/printer interface) is on this connector. LPEN is pin 21 of the uPD7220 (not labelled in the schematic).
The FLEX User Group Disc Library contains a number of disks with Microbox II specific programs.

LIBRARY DISC No 18 Microbox II Monitor Ver 4.3 Sectors = 299
MINIT1  .TXT  1  COMMANDS.TXT 10  MON09   .TXT 88 S CRATCH .TXT  3
SUBS    .TXT  4  FDB     .TXT  5  STARTADD.TXT  1  MINIT   .TXT  7
COMTABLE.TXT  1  BOOT    .TXT  7  CONSOLE .TXT  6  CHARS   .TXT 36
GDCSUBS .TXT 29  DISK    .TXT 18  GDCOUT  .TXT  9  README  .TXT  3
NEWDISK1.TXT 30  MAZE    .TXT 18  MAZE    .BIN  4  NEWDISK1.CMD  6
PLAY    .CMD  4  SCREEN  .CMD  1  README  .TXT  5  MON09   .DOC  2
 Note - Ver 4.3 is not the current version (4.5)
 
LIBRARY DISC No 23 *** MICROBOX GRAPHICS *** SECTORS = 326
BLOB    .BIN  2  BLOB    .TXT  2  COPY    .CMD 15  GPRINT  .CMD  2
GPRINT  .LTR  3  GSAMPLE .TXT  7  LEO     .BIN  2  MON09B  .BIN 34
NEWDISK1.CMD  6  PATTERN .CMD  1  PATTERN .TXT  5  PGRAPH  .CMD  2
PGRAPH  .TXT 10  PLAY    .CMD  4  R       .CMD  1  R       .TXT  5
README  .TXT  3  SEE_GRA .CMD  1  SEE_GRA .TXT  2  SFS     .BIN  2
GPRINT  .TXT 16  SUB_GAME.CMD 29  SUB_GAME.PL9 73  ANIMATE3.CMD  1
ANIMATE3.TXT  4  BIRDS   .PIC 51  ANIMATE .CMD  1  ANIMATE .TXT  4
SSAVE   .CMD  7  SGET    .CMD  7  ANIMATE .DOC  3  TIGRAPH .TXT 15

LIBRARY No 24 6809 *** MICROBOX II PROGRAMMES *** SECTORS = 389
BLOCK   .PL9  9  MOON1   .BAS  9  DISA    .BAS 26  PLANET1 .PAS 13
UBIO    .LIB  5  PLANET  .PL9 13  PLANET  .CMD 25  STARTREK.TXT 80
STARTREK.CMD 16  NEWDISK1.TXT 30  COMM    .TXT  4  ALLOCATE.TXT  4
LCD     .TXT 25  PRETTY  .TXT 22  PROG256 .TXT  8  PROMCOPY.TXT  2
PROMPROG.TXT  9  PROMREAD.TXT  3  BALL    .TXT  4  SETTIME .TXT  7
TIME    .TXT  7  RAMDISK .TXT 11  PLAY    .TXT 11  TERMINAL.TXT 11
BLOCK   .DOC  6  BLOCK   .CMD  6  W-BLOCK .CMD  6  W_BLOCK .PL9  9
      PLANET1.PAS is a Lucidata Pascal version of Planet
      PLANET .PL9 is a PL9 version of Planet
      UBIO .LIB is a Microbox II PL9 graphics interface
      NEWDISK1.TXT includes 80T drives
      PROG256 - PROMCOPY - PROMPROG - PROMREAD are to enable
      27256 eprom programming copying and reading
      LCD .TXT a liquid crystal display driver
      BLOCK.CMD Puts to memory a selected 32K section of a SD disc
 W-BLOCK.CMD Puts $0000 to $7FFF of Ram to a selected 32K disc section
 
LIBRARY No 25 6909 *** MICROBOX II PROGRAMMES *** SECTORS = 390
IG      .TXT 25  IG      .CMD  8  GWORD   .C    8  GWORD   .CMD 11
LINE    .CMD 20  LINE    .C   27  SSAVE   .C    5  SSAVE   .CMD  7
SGET    .C    4  SGET    .CMD  7  PGRAPH  .CMD  1  PGRAPH  .TXT 14
S_PRINT .BIN  1  CHASE   .CMD 30  CHASE   .C   27  ENGLISH .CHS  5
AMERICAN.CHS  5  FRENCH  .CHS  5  DANISH  .CHS  5  README  .TXT 26
MAP     .BIN 34  DEMOPLOT.BIN 51  PG_READ .DOC  7  PG      .CMD  2
PG6     .CMD  3  PG6     .TXT 20  CFMB2BRO.TXT  2  CFMB2SPE.TXT 27
CFMB2SPE.BIN  2
        Disc of programmes by Adrian Cockroft and David Rumball to
        produce and save high quality graphics. IG interactive graphics
        CFMB2XXX Configuration for Compusense's SPE
 
DISC No 35 FLEX 9 A dissassembed version (ver.4.23) SECTORS = 379
        of the MICROBOX monitor with comments by Neil Mackay
MON09   .TXT 379

DISC No 40 FLEX 9 MICROBOX ][ Experimental Programmes Sectors 137
        A disc of programmes for modified MB2s ( extended G. RAM etc )
NEWSUBS .DOC 21 NEWSUBS.CMD is a set of graphics routines in the user
NEWSUBS .CMD  7 RAM area which in combination with monitor version 4.5
NEWSUBS .TXT 35 allows the addressing of a 512K extended graphics RAM.
               The extra memory can be used as 7 new graphics screens
HEADER  .TXT  9 A sample start for a programme using the new routines
SEERAM  .CMD  8 An easy way of scanning through the entire graphics RAM
XX      .TXT 23 Uses the newsubs to clear a selected screen, or to move
XX      .CMD  5 pictures to another screen area, there is a 'help'.
XGSAMPLE.CMD  9 A programme to put a display in each screen area then
XGSAMPLE.TXT 18 use SEERAM to view the 8 screens.
XGSAMPLE.BIN  2 Same as XGSAMPLE before appending Newsubs

        All the above use the extended graphics RAM (512K bytes).
        Until the drawing system programme DG.CMD is finished
        pictures can be done in the normal graphics area and then moved
        to their intended screen area. In the reverse way pictures can
        be moved to the normal area and saved to disc by SSAVE
        Contributions please, there must be others who have made
        changes to the MB2.
 
DISC No 41 FLEX 9 MICROBOX 2 Programmes by Neil Mackay Sectors 422
  Title Sectors
COMBOX.CMD  20 A communications programme for use between the MB2 and
COMBOX.TXT 122 our BBS ( or any other BBS )or for between the MB2 and
COMBOX.DOC  22 another machine.
PAGER .DOC  13 PAGER is used with COMBOX, it allows the use of two
PAGER .CMD  10 screen pages of text toggled at will to the screen.
PAGER .TXT 116
FORMAT.CMD   7 An alternative disc formatting programme for the MB2
FORMAT.TXT  50
ROVER .TXT  62 A sample of the results of it in action
A total of 422 It can be supplied without ROVER or without FORMAT
 on a 40T SS SD disc

DISC No 42 FLEX 9 MICROBOX 2 ASSED by Neil Mackay
                                   Sectors 175
ASSED .CMD 16 An editor specifically for the preparation of 6809
ASSED .TXT 159 source code. The command codes are similar to the
               PL9 commands.
        See Neil's notes in the Jan. '87 Microcosm.
        Librarians note-
           Said by users to be much better than the TSC Editor.
 
Disc No 44 Microbox Projects SECTORS 629
        Contributed by Gery Brosens
SOUND   .CMD 11 SOUND   .INF  3 SOUND   .LAY  34 SOUND   .PCW  38
SOUND   .PIC 56 SOUND   .TXT 31 TEMPERAT.ADC  55 TEMPERAT.BAK 103
TEMPERAT.CMD 25 TEMPERAT.DES 18 TEMPERAT.ENG 103 TEMPERAT.IE1  18
TEMPERAT.IE2 24 TEMPERAT.INF  3 TEMPERAT.LST   3 TEMPERAT.PWR  36
TEMPERAT.SNS 25 TEMPERAT.TST  1 TEMPERAT.VAL  13 TEMPV4-5.CMD  25
 ******** This disc is a total of 629 Sectors *********
SOUND
Is a hardware project to drive the AY-3-8910 from the MB2s 8255 PIA
there are full hardware and software details, but the MB2 graphics
screen is used by the pcb layout and component layout.
TEMPERATure
Is another hardware project to measure and display temperatures
using the LM35C temperature measuring IC. This is also well provided
with information on the pcb, the circuit diagram and full software
to display the data.

DISC No 47 Graphics for the Microbox II by Gery Brosens
                   466 SECTORS 40T DD
BASGRAPH.INF  7  BASGRF1. BAS  2  BASGRF2. BAS  3  BASGRF3 .BAS  4
BASGRF4 .BAS  3  BASGRF5 .BAS  5  BASGRF6 .BAS  4  BASGRF7 .BAS  3
BASTEK_1.BIN  1  BASTEK_1.TXT 11  MANBR   .BAS  5  MANDEL  .BIN 52
MIR0    .BIN 44  MIR1    .BIN 24  MIR2    .BIN 52  MIR3    .BIN 17
MIR4    .BIN 60  MIR5    .BIN 45  MIRA    .BAS  4  README  .TXT  3
SGET    .CMD  7  STER    .BAS  3  STER    .BIN 40  U_TEKENT.BAS  7
XCARD   .BIN 60
 
  Please do 'sget xcard.bin'.
  Xcard has been made in xbasic, I send it to you together with
  an helpfile: bastek_1.bin. Helpfile must be loaded (get bastek_1)
  and then a basic file can be executed, i.e. xbasic basgrf1.
 
  All .bin files could be seen with the sget command (except bastek_1).
  Please take care for the Mandelbrot program. Manbr.bas generates a
  picture on the screen but this takes MANY HOURS (was it 16 or 32?, I
  do not remember it so well). I have saved the picture in mandel.bin.
 
  I have started too late on this diskette, so sorry for the texts
  in flamish. I hope You can get the points.
  Gery Brosens
 
DISK No.48 contributed by Chas. Yates 121 sectors
           mainly Microbox II
 
DISC No.49 Microbox II monitor source code ver. 4.5 363 Sectors
        A complete set of the last version of monitor core and drivers
        for use with the 'A' version of the graphics controller the
        NEC 7220 A 

---
Graphic Ram upgrade
The 7220 provides 18 address lines for 256k (x16) RAM. The 4164s used by the Microbox can be changed to 41256s -- they are pin compatible, with the extra address line (one line only, because DRAM address lines are multiplexed) connected to pin 1. You'd need another LS257 chip to select between the 7220 A16 and A17 depending on the state of /ROW. See Library Disk 40 above.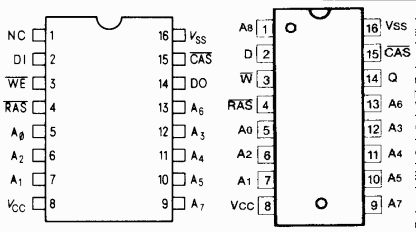 ---
NEC 7220A / uPD7220A
WD 1770 datasheets and information
WD 2123 UART information
It's not easy finding WD2123 information on the web.
2004-12-28 :
Steve Ellenof found this page while looking for the WD2123 datasheet. When he eventually found one, he sent me a copy to post here. So, here's the WD2123 Datasheet, courtesy of Steve.

The Timex / Sinclair FDD3000 used the WD2123 and the WD1770.
"756" Keyboard
Back in the good old days, there was a little shop called the Electronics Supermarket just around the corner from the Greenmarket Square. They sold all kinds of nifty stuph I couldn't afford, I remember they had an AIM 65 on display.
Anyway, I bought an ASCII keyboard from them, model 756C. I have the docs that came with it somewhere, but meanwhile I found a copy at http://www.netdenizen.com/ebay/gri756/gri756.pdf. These keyboards need -12V in addition to the +5V supply, I removed an ethernet DC/DC converter and hacked it onto the site provided on the keyboard PCB.
Of course the Microbox provides -12V on the keyboard connector, I suspect the 756 or keyboards based on the same chip was pretty much standard all over the world for a decade at least.
Modern keyboard
Sebastian Kienzl's interface does all the hard work in a PIC. Or you can do it the hard way.
---
---

hits since 2003-09-29.
Back to Wouter's 6809 Page
(This page last modified 2020-06-14)