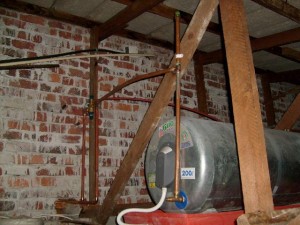 So the geyser (inside) plumbing is pretty much done. I finally found 90 degree 22mm solder bends at Mica in Diep River. Also bought a Ryobi belt sander for R800. The Bosch is far nicer, but also double the price.
I then went on to Builders Warehouse, their saving grace is that they're open 'till 1900. Bought a 20L tin of primer (almost R800) and a double handful of 22mm brass compression fittings (R500). With a bit of filler here, a piece of copper pipe there, and so forth, this brings my day's expenses to R3000. Fun.
So this morning the geyser got itself plumbed, bled, etc. Now for the outside work, which will be compression fittings and polycop pipe.
Frank's also been busy. OK, so the picture on the right falls under "one step forward, two steps back" — the box was in the wall when I realised that I needed a second wire, because I'm running the main light off 220V and the downlights off 12V, and separate switches is the way to go.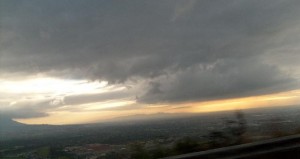 And this was the view coming down Ou Kaapse Weg this morning. This shot taken on my mik&druk out the car window, it was a lot more impressive in real life, lemmetellya.
Cape Town. Gotta love the place.