So there I was, pottering around home yesterday morning, and suddenly the lights go out. And the bleating of the UPS reaches my ear. Some inspection shows that the fridge is still working, Tamsyn is still happily playing on her computer, and all the trip switches including the big ones in the box outside are happy.
Further inspection shows that we have one phase of the three phase circuit, and even further inspection shows some very dodgy looking wiring on the pole side of the feed.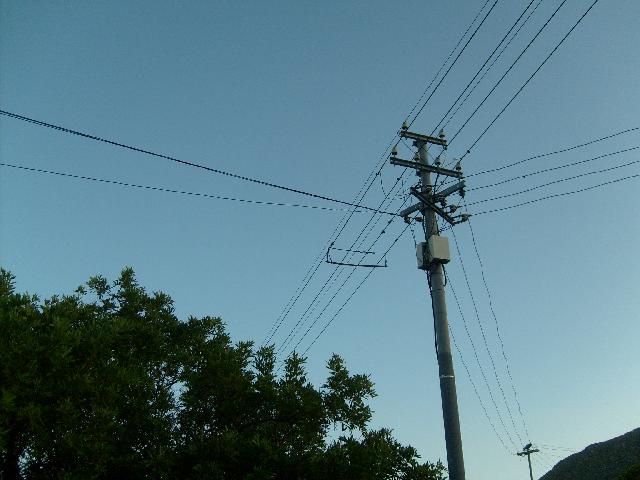 So Tanya gets instructions to phone council and I bugger off to work.
Long story short, at 1800 it was starting to get dark inside the house, and we still had only the one phase.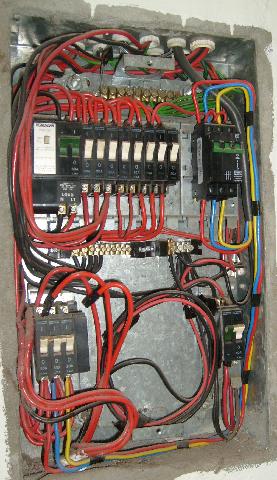 Battleshort!  I disconnected the two dead phases, and shorted all three phases together on "my" side of the mains breaker (which is the bottom of the bottom left switch in the first picture, but I did it at the input side of the breaker that feeds the garage, just because it was more convenient.
So around quarter past eight, just as I've put the bread in the oven [1], the crew pitches.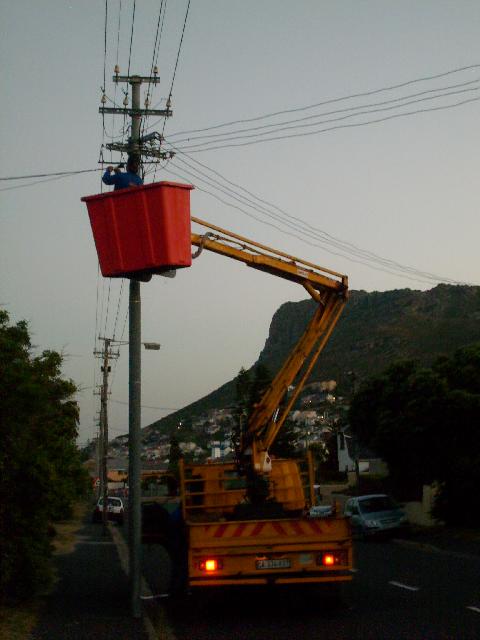 Of course, they had to cut all power to fix the feed, and when they reconnected the power everything now hanging off the one phase was cold, so that tripped the outside breaker, which lead to the quickest removal of a kludge you can think of (figured I had to remove all evidence of my meddling before they came inside to look why the lights were not burning…)
[1] We had friends over, and I make Pioneer Woman's Marlboro Man's Birthday Dinner (well, the pan fried steak with blue cheese sauce, crash hot potatoes, and buttered rosemary rolls part of it). With store-bought dough in my black pot, Porterhouse steaks from Constantia Pick & Pay, and lemme tellya, that blue cheese sauce is something else.