The ninth International Metallic Silhouette Shooting Union (IMSSU) World Championship shoot, that is.
(Excessively long posting after the break).
IMSSU World Championships, Cape Town, 2010
A while ago, some fool decided that we (being Cape Town) should host the next World Championship shoot. No worries, except that we had no facilities. And IMSSU dictates certain things, like a deck, and a roof, and straight rails, and spec targets… well, OK, we had some mostly spec targets.
Except those got stolen two months before the time. But I'm getting ahead of myself.
Back in MarchAprilMay the range consisted of a bulldozed piece of ground 150-ish m wide by 200 m long for bigbore handguns, with a 500m deep stretch down the one side for bigbore rifle. Ludi had built a clay berm for a firing point, but we needed to add shooting points, the rails were notsogood, and we needed a smallbore handgun and rifle range.
Eight men in a boat
To expedite all of this fun and games, a committee of like-minded fools was formed, and for my sins I found myself on it. I had only a small role to play — organise transport and maybe day tours [1], get the PA and range lights up and working, and get some commemorative glasses made. Oh, and bring beer and ruby grapefruit juice to the meetings.
Fortunately we had a budget, coming, of course, from the international [2] entries for the world shoot.
To cut a long story short, a range was created from thin clay on a thinner budget by the magnificent effort of Juan (who lived on the range for three weeks before the shoot), Ludi (who herds CATs remarkably well) and Gunther (who organised trucks and rails and who will probably have to sell that poor buggered ex-personal-now-range-4×4 at a loss).
Meanwhile Pixi was organising accommodation and catering and who knows what else, Wag was squadding like crazy while fielding objections from up north, Deon was not at all concerned about the budget, and Gunther and Phillip was sorting out everything else.
Of course we also roped in a bunch of other people to help out, Kallie and Sarel and Mariette spring to mind immediately but there were others…
Technical stuff
Wire is expensive. And the range is a couple hundred metres from the one end to the other. My solution to this was to install a 100V line PA system — unlike a traditional 8 ohm system, thinner wire carrying a higher voltage at a lower current is used. The downside is that each speaker needs a transformer — but on average, it's still cheaper.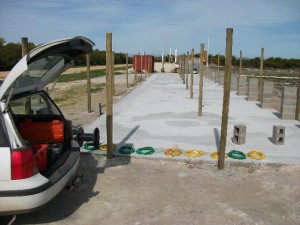 Especially if you get the wire for free. Phillip organised around five or six hundred meters of used solid and stranded CAT-5 cable, some of it in 40 to 60 m sections, some of it on much longer reels. The above picture was taken on 2010-09-04 (yes, THREE weeks before the start) and shows the smallbore rifle shooting point, with the bigbore berm behind, no roof yet, and some of the donated wire I was sorting into separate coils.
Mariette donated a bunch of low-wattage 8 ohm speakers, I fitted transformers at R50 per speaker and ended up using ten speakers to cover the complete smallbore side — I could have done the same using horn speakers at almost twice the cost [14]. On the big bore side I bought two new 100V horns  and re-used an 8 ohm horn from the old system, with a transformer added. In the end we had more than enough sound, and I ended up running the big bore side off the 70V tap (horns are efficient).
Range lights were also an issue. I would have liked to use the large LED assemblies they use for truck lights these days, but at R250 each this was way out of the budget. We settled for little metal boxes (donated via Gunther) with high brightness LEDs. I installed 22 of these, and also five switchboxes, one per shooting position.
Basically, the range officer (RO) can signal a green or a red to the main control room [3] where a panel displays all five states, and the announcer can then signal the range green or red.
To save wire, I used polarity. One pair of wires took power everywhere. Another pair coming back signalled green (+ on solid) or red (+ on stripe). With this scheme you can get the signal from two firing points and control the range lights on both with one run of CAT-5. This worked for the smallbore side, for the big bore (Big Bore Handgun, Field Pistol and Big Bore Rifle) side I needed an extra run of CAT-5 to the closest firing point.
Recovery by alcohol
I figured that Juan was going to lose his mind, all alone on the range like that (he was sleeping in a caravan on the range, running around at night shooting into the bushes, because, as mentioned, our smallbore targets were stolen for scrap metal shortly before all of this and had to be replaced at no trivial cost) so I visited often to drink beer and talk kak entertain him with intellectual discussions.
The week before the match was a complete loss for me, since work exhibited at AAD and I was there most of the time. Thursday after AAD I drove through to Fish Hoek (50 km) , packed the Rand-Lover, and drove to the range (80 km). Got there, everyone had gone to sleep. Knocked Francois (a Bloem shooter who was sleeping in the caravan, Juan having buggered off home for a shower and medication) up to get my beer from the fridge, chilled a bit, and parked off in the back of the Rand-Lover.
By this time of course, the range had been transformed. Juan had all the roofs up, Riaan [10] had organised a bunch of army tents, and the caterers had moved in.
Crunch time
Friday morning oh-dawn-early I was stringing speakers up, those came online shortly before 08:00, when the sighting in started. Then I sat there soldering the range lights control box together, that was working by around 10.
Just in time for the opening ceremony, which was mostly a comedy of complete stuffups. It started with me wiring up the old PA system, with horrible results — figured out the brand new ZakSpeed microphone was a complete bucket of crap, stole the old microphone from the new PA system, and all was well. Juan had organised for a fellow to come shoot a cannon for the opening shot, well, we ended up with three fizzles and the event being opened with a TC in 22 rimfire. Oh, and the pilot didn't pitch, so the parachutists also didn't materialise.
Range Inspection
After this the Powers What Be (delegates from each team) inspected the range and found a few snags. Less than we anticipated, true, and Juan sneakily dodged the issue of clamps [6].
One of the issues was that some welding had come loose. You see, on the range, welding means a generator has to be dragged up. The small generator + portable welder did not penetrate heavy-duty rail. The petrol welder was clearly required. This culminated in Juan, with me riding shotgun, hauling the unlicenced trailer with no lights to Ludi's farm in the middle of the night, loading the welder, getting pulled over by the police on the way back [7], and then, not being able to start the damn thing [8], going to bed in disgust. Eventually. After making flags for the smallbore range. Juan, that is, I just went to bed.
Start of the competition
Wag squadded me to shoot at 08:00 on the first day. That was clearly not going to happen. I ran around making sure the range was working and… it was. Callooh Callay and all of that (Actually, Wag did a damn good job with the squadding. He squadded the locals first, so that we could deal with complaints while fixing things. And it worked).
I did get to shoot at 11:00, packed out a smallbore production 33. Which is pretty good for me (hey, I'm not an international shot, I only work here). Shot with MC, who only shoots smallbore. I'd shot with him before in PE, we work well together.
Of course this score went on the board as a standing score, so for a while there I was a hero (my true standing score was *cough* *mumble* lessthanten *mumble*).
Catering
Pixi organised a caterer who parked his truck on the range, pitched a tent, and proceeded to provide stunning food at rather high but extremely reasonable [15] prices. Lunch mostly ran to three meat and veg, with sushi being avaliable every day (until Phillip or Gunther got there, that is).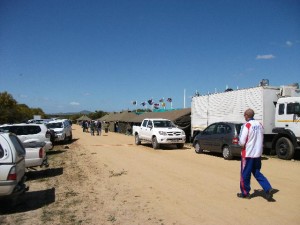 And off we went
Sunday was squadded for smallbores and half-day only [11], and we ended up doing the welding in the rain (Ludi and I) after that. Juan was also out there, of course. Fools, all of us. Julia pitched with the Golf, I sent her up to the clubhouse to keep Riaan company — he was making a stunning potjie for supper.
To make a long story short, everyone had fun, I managed to pack in my other three smallbore events (with Julia spotting), had a day off where I ended up taking score at the bigbore rifles, and then shot my four bigbore events. My last two events were squadded on Friday morning, but Julia had to leave, so…
I ended up shooting a good (for me) 16 standing with my 4″ Astra service .357 revolver and Julia spotting and a 26 in revolver using Gunther's .357 Freedom Arms [12] — for the life of me I can't remember who spotted, could have been Francois, dunno.
I don't compete with the big boys, but I did manage two golds and three bronzes in my class (mostly A, but I shoot BB unlimited at B class just because I've not officially done it before).
IMSSU Assembly
IMSSU got together on the Thursday evening and decided… that we're hosting the shoot again in 2012. Validation that we did a good job, I suppose. Either that, or they couldn't find an equivalent set of fools anywhere else…
Shoot offs
We had a lot of shoot offs (if two or more competitors tie, they have to shoot five really small targets each until someone wins). Started with bigbore rifle, where the two SA team members who were shooting for third place overall drew three or four times in a row, and the one fellow ran out of ammo and had to concede. Except a Frenchman stepped up with a rifle and fifty rounds, so the shooting continued for another three (I think) rounds until the best man won. Amazing.
Somewhere in the middle of the smallbore shootoffs Tanya (who had come through on the Friday after work) and I had lunch, and I would have had more (it was excellent) but we were thinking of the evening…
Closing ceremony
This was a lot quieter than the opening ceremony, but the fellow with the cannon was there, and this time he got the damn thing to go bang. Three times in a row, nogal.
Prize giving
One of the very first entries on the task status list was a prize giving venue. I was quite relieved when we decided on D'Aria and paid the deposit. It ended up being an excellent choice for a venue, and a good time was had by all.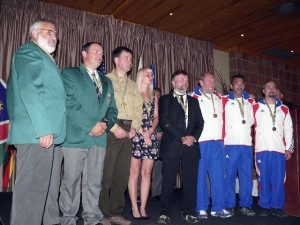 Finland and France pretty much dominated the stage, with South Africa picking up a few medals here and there. I guess one can say that the shoot was a success but the shooting wasn't.
So Tanya and I went back to the range, with the idea of sleeping over and then I would help pack up and Tanya would head home. Got to the gate, there was a sign said "closed on Thanksgiving"… OK, not really, but the gate she was locked. Waited around for about an hour until it became clear Juan wasn't behind us (for reasons which became clear later) so we drove the 80km back to Fish Hoek, slept, then drove 80km out to the range again. Packed the Rand-Lover full of stuff (can't leave anything there, it will be stolen) and helped Riaan break down the tents.
Freeloading Finn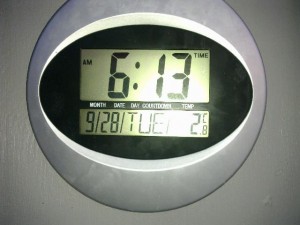 Tuesday morning dawned nice and cold. 2.8 degrees C on the range. A bit later Riaan [10] pitches, sez "Juan, we have a problem". By this time Juan had already spotted the little black Kia stuck by the bottom end of the military shooting range, so all was under control, we went, pulled the fool out.
Turns out this Finn was not in the party with the other Finns (the ones who had hired the two Kombis) — he'd flown in, hired a car at the airport, came in the gate, took the first turn right and the first turn left, except that there was no road to the left, resulting in Kia with sand up to the bodywork.
He'd spent the (as I said, somewhat chilly) night in the Kia, but he was squadded, so he had to shoot. Which he did, after which he left his dinner jacket and rifle with Juan, and buggered off back to Cape Town.
Few days later, there's a Kia parked on the range again. A different one, containing the same Finn. Only difference, this time the night had been slightly warmer, and the Kia wasn't stuck. So he shot again, gave his rifle back to Juan, and buggered off back to Cape Town.
I organised a taxi so that he could take the train to Bellville and the taxi to the prize giving venue, but he decided that was a little expensive for him (R250) and he'd rather walk the 11km. To each his own. We took his rifle and jacket through, and he eventually pitched after the starters.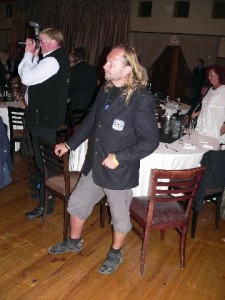 Up to this point, all was well. But I later learned that he persuaded Juan (of all people! Juan was justifiably dead tired) to take him back to Cape Town after the prize giving. Don't plan, make yourself someone else's problem, and save money. Yea, that's the ticket [5].
Update: Finland eventually phoned. Finn did not make it home in time. Turns out he missed his flight in Johannesburg and had everyone running around looking for him.
Atlantis shooting range
The support from the range was amazing. Riaan organised wonderfully. Geraldine and Mike provided food and beer and more beer, and very reasonably too. They will be handling the catering next time fo' sure. We couldn't have done it without them.
TL;DR
I can write some more but I think this is way long already.
So let's do it again in 2012.
[1] In the end this turned out to be a red herring. Most of the competitors rented Kombis, and they were here too shoot, not tour.
[2] And to some extent from the local entries. Except someone somewhere [4] decided to charge the locals a whole lot less than the international shooters. Because, I guess, the locals had to fork out so much more less than the internationals for travel and accommodation and the like [5].
[3] Fancy name for the grey container.
[4] Not us.
[5] Me? Sarcastic? Perish the thought [5].
[6] When asked "And what about clamps" the answer "We have that under control" means "We'll be bending those up at midnight tonight in Ludi's garage if all goes well".
[7] At this stage Juan looked a few notches past like he was dying. I think the police were afraid he was going to die in captivity. So they let us go.
[8] To be fair, Ludi, who is a big fellow [9], also struggled his arse off to get the damn thing started the following day.
[9] Damn thing starts with a rope… after you take out the spark plug and pour fuel down the hole… maybe.
[10] Range Sammajoor.
[11] Something about the noise bothering people on a Sunday, even though we're next to a 24/7 brick factory and just up the road from a flying field where they play parachutes particularly on a Sunday.
[12] Damnice gun. The official load is 16 grains of S265 behind a 158 grain JSP PMP bullet. To get 16 grains in there, you need to move the cannelure backwards. When it came to making ammo, I found that I had exactly 40 bullets with cannelures where they need to be, so sighter shots were strictly optional.  3 Chickens, 6 pigs, 8 turkeys (!) and 9 rams. Some of us are so blasé, we get our sight settings at the world championship.
[14] One horn also gives you a hotspot — a loud area and a not so loud area, basically. More speakers distributed is better.
[15] How can this be? Well, R75 for lunch is a lot, in South African terms, but the food was of international standard and available right there, and that makes up for it. Some locals grumbled. Let them pack sandwiches.
Write a comment