When I was in Dallas in 2005 I saw the then new Mustang. When I started browsing rental cars (about two years ago, because we wanted to go last year already) I saw that Hertz offered the convertible Mustang, and I was in lust.
Fox has a slightly tarnished reputation*, but… they also have the Mustang.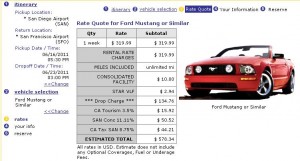 <– Is dit nie fokkin cool nie huh?
Versus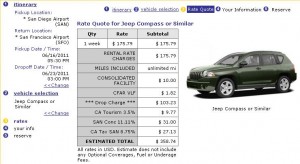 Decisions decisions… although trunk space is a concern.
Fox only has a few locations for returning the car — while I can drop of a Hertz rental in the middle of San Francisco I will have to drop the Fox rental at the airport. This is either a pain in the arse or a blessing — if I keep the car while we're in San Francisco, I have to pay for parking ($20/24 hours), but we won't need to pay for transport ($8/head Powell Street to SFO on BART, one way) to town after drop-off and back  to the airport when we leave — that more than breaks even IMO.
* Two stars on Yelp, while Avis and Hertz have three. National has five starts, but wants $1600 for the week.