Back in 2008 we knocked out the wall between the kitchen and the living area. The idea has always been to put a counter surface on there, it's just that I wasn't quite sure how to do it so… I didn't.
Until a few weeks ago, when Tanya mentioned that with Jessica's 18th birthday (cocktail) party coming up, it would be nice to have a counter…
So I got my arse in gear.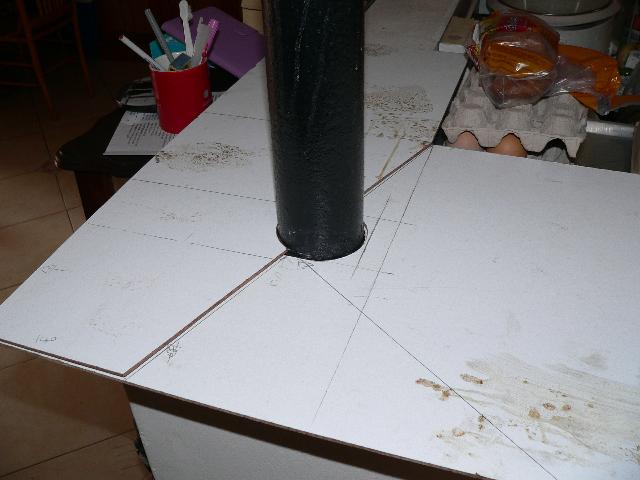 Started with a couple of templates, ordered MDF mostly-cut-to-size and with the appropriate edges rounded. Not that they got it right, but it was close enough.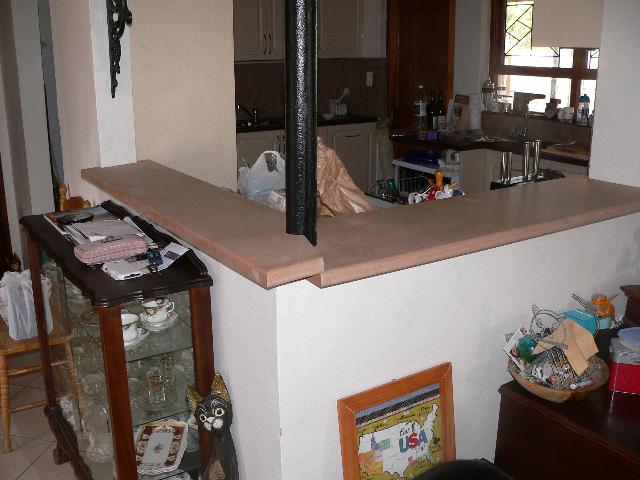 Then I carefully marked the boards and routed them to size against a straight edge and… it didn't work out right. No idea why. Out by about two mm on the outside edge. FSCK.
So I routed it back further and glued in a false piece and repeated the operation, but starting about 5mm oversize and coming in via router and then belt sander, half a mm at a time.
That's probably as good as it gets.
Covered the two pieces in wrapping paper for the party (I didn't want stains on the wood before I seal it, and staining and sealing will be a slow process since I need to try to match the postform kitchen counter colour).
And that's what it looks like at the moment.
I'll tie the two pieces together with dowels or biscuits, maybe a screw underneath to hold things together. The polyurethane wood glue dries to almost the right colour so that should be OK… I hope.