Jessica's iPod is borken. Looks like the battery doesn't hold a charge any more. And it's one of those second generation shuffles, they're tiny.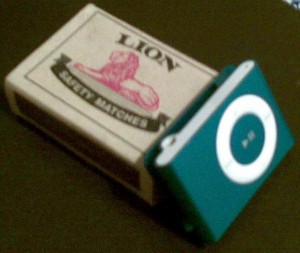 Fortunately there's an online procedure showing how to replace the battery. And BatteryMill in the UK has batteries for £ 10.99, not including shipping. Also, Pieter is over there at the moment, coming back on the 4th of July, so I don't have to worry about losing the parcel in the mail.
If I don't blow myself up there will be an update here after the 4th of July.
Update : Pieter bought the battery from the UK, it's made by Cameron Sino Technology and comes with a plastic spork which is completely useless, I had to rely on my 1984 Swiss Army knife. Model number CS-IPOD278SL, part number 616-0278, 3.7V, 200mAh (supposedly).
The guide is not that clear — the white cap on both sides need to be removed, and also the two metal brackets (four screws in total).
The battery didn't want to just "flip out" it had to be persuaded quite a bit — it's glued to the PCB.
The battery comes with a security label "Warranty void if sticker is removed — but this label and the sticker around the battery has to be removed for the battery to fit. The sticker claims 200mAh, while the battery inside the sticker is clearly marked "100mAh". Seems like Cameron Sino is guilty of a bit of… creative marketing…
Write a comment