Last year I bitched about the lack of licences for my Browning-designed ironmongery. Just before Christmas, the situation improved markedly.
So I could shoot my 1911 and my Winchester '94 on Saturday the 23rd of January.
Post '64 Winchester '94 in .44 Magnum. Not a particularly good example of a Winchester, the beancounters got involved and the post '64 Winchesters are cheap (the beancounters were supposed to make things less expensive, and got confused about the difference between cheap and inexpensive).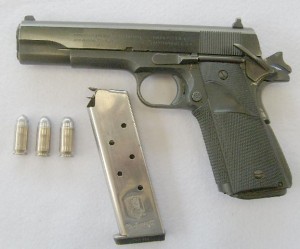 1944 Remington-Rand produced M1911A1. Carries British proof marks on the barrel. An excellent example of a 1911. Made towards the end of the Second World War, I'm pretty sure this pistol never saw service. Sat around in stock until being sold as war surplus.
My friend Etienne bought it and fitted the Pachmayr grip and magazine. I liked the gun so much I told him if he ever wanted to sell it I wanted it. He emigrated to the USA, the 1911 stayed behind.
This is one sweet pistol.
(And Tamsyn really liked the Norinco 22 levergun).