Our kitchen is rather small. 3650 x 2860 or thereabouts. There's also not much in it that we can keep, see Tanya's blog for pictures.
Firstly, we decided to move the door(way). That opens the kitchen up, or splits it down the middle, depending on how you look at it. The opening can't be too far to the left, because the electrical distribution box (DB) and prepaid electricity meter is there. Also, it gets too close to the semi-private area. And it can't go too far to the right, since that infringes on my (I'm the cook in the family) work space.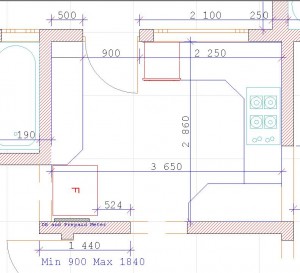 Currently I'm thinking that either the fridge or the oven should go in the corner. I'm also thinking I can steal some space by using the hole in the wall where the door currently is. Putting the fridge way over there splits the work triangle, but keeps the kids out of my hair when they do the "let's stare at the inside of the fridge" thing. Putting the oven in the corner means that the fridge has to go somewhere else, which in turn means that the new door will probably move to the left, which takes it further away from the living room on the right.
Ommmmmmmmmmm…..