Christmas left me with a whole lot of tomatoes in the fridge. Half a container of small red cocktail tomatoes, most of a container of mixed red and yellow cocktail tomatoes, and a whole unopened bag of Roma plum tomatoes.
And with Tanya and the kids off to Knysna for a week, I figured I would make tomato bredie (Tanya hates mutton, Jessica's a vegetarian, but Tamsyn might have liked it, except I put a whole lot of chili in).
Found an Ina Paarman recipe online, used a whole lot less mutton, and three whole green chillies from a packet that I stuck in the freezer a couple of years ago.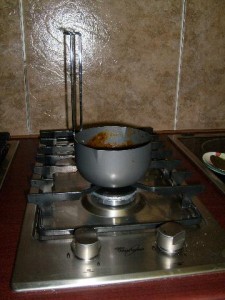 Used this nifty Christmas present to reduce the sauce. Ain't it cute?
*burp*