Emotionally tired, I think, more than physically.
I looked back through some photographs… we've come a long way, and we did a helluva lot, but it's not so obvious if you're living it day-by-day — it's much more striking when you look back.
This was the stoep area outside the kitchen door, back in April.
By July, it was looking a lot better.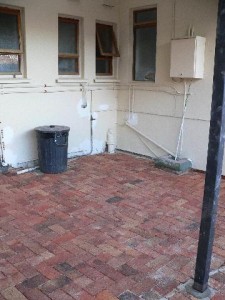 Of necessity, Frank paved the bricks at quite a slope. This is good, from a water runoff point of view, but I had to chock the washing machine with a couple of 2x4s, otherwise it would bleat piteously and give up on the spin cycle.
I had planned a platform to keep the machines dry and off the deck, as well as a partition to keep the wind and dust at bay, and a table for sorting and folding the washing.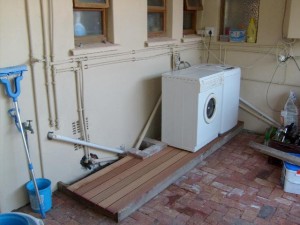 I'll move the chest freezer when I have help :-)