I've been spending more time on fun & games and less time on the house. Naughty, naughty me.

This is our silhouette range at Atlantis. If you look really closely you can see the Koeberg Nuclear Reactor poking out towards the right hand side of the picture, behind the flagpole.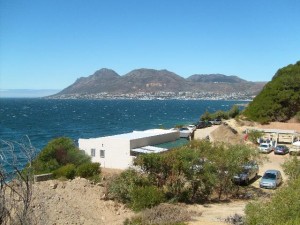 This is the view from the False Bay Gun Club.
This is the hard work that I need to do so that I can go and enjoy the outdoors at the abovementioned venues.
And that is why nothing's happening around the house.
OK, I promise to post pics of the completed drip tray cupboard above the kitchen sink as soon as the backsplash is tiled.