Last Sunday I decided that I had to get my lazy bum in gear and finish the kitchen wiring.
Before and after. I built a 3 way multiplug into the appliance garage so we can leave the stuff plugged in, just pull it out to use it.
The plugpoint on the left is special. I originally bought it to use it in the bathroom, because hair dryers etc often have two pin plugs. But Tanya's hair dryer has the "euro" connector that doesn't fit into that socket. So I swapped a single socket into the bathroom and put this one here so that I can plug the wall-wart to charge the bamix.
All of this took longer than expected, and since I had been monopolising the kitchen the munchkins were hungry.
So Tamsyn made french toast. Using three eggs per person, so we had scrambled egg afterwards :-)
And we started a batch of ice cream but that will be the subject of another post.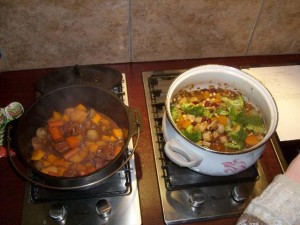 Supper was my stoo on the left and vegetarian parsnip stew on the right. Both were great.
Write a comment