Last week was hectic, since my company exhibited at the African Aerospace and Defence Expo. I had to be in Cape Town early to pick up some foreign visitors, and evenings got late too.
The mountain does make a nice backdrop for pictures.
This is Harvard #7293, used by the SA Air Force from 1942 to 1961. In another life, I want one.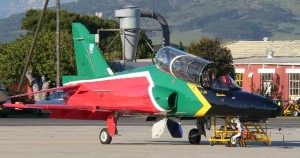 Nice colour scheme.

This is the only flying Shackleton in the world, since they crashed the other one in the Sahara.
After finding some currywurst for breakfast, I managed to tear myself away from our exhibit at around 12:00 on Saturday, and went to the office to print a contract, since my brother found a buyer for my Fox. Went to Bellville, found other paperwork, buyer came around, I managed to still catch the liquor store open (16:55, they close at 5 on a Saturday) and then rushed back to Tanya's place, because I had to pick her up and go back to Bellville for a braai… after which we went back to Kommetjie again. Covered about 250 km the day :-)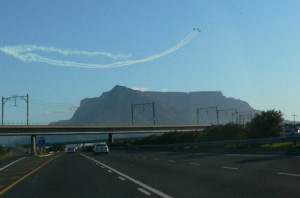 View from the N1.
Somewhere in the early hours of Sunday I woke to a dripping noise. Tanya's geyser was leaking. Bear in mind that we've only just sold the place.
So Sunday I investigated, drained the geyser, removed the element, and came to the conclusion that it was probably the geyser itself that was at fault. Drove to the house, got the Land-Rover, and the electric gate wouldn't close. Fscked played with that until it started working, drove to the hardware store. Got into a traffic jam because some unfortunate individual got under the train, and everyone wanted to rubberneck. Bought a new geyser, battled the same traffic jam going back, picked up the ladder from the house, removed the crud from the gutters at Tanya's place, waited for Tanya to come home to help me with the geyser, fitted the geyser, hosed out the gutters, loaded the b0rken geyser into the Land-Rover, and had a well-deserved beer.
But no progress on the house side of things.
Meanwhile, Crystal continues to crack me up. I need a support group.