I've been quiet because we've been on the road. Tanya and I drove up to Gauteng on Wednesday, September 24th, spent two days there, then drove down to Port Elizabeth and from there to Knysna, where we spent the most of last week.
Wednesday : Bellville to Rustenburg. Departed 04:00, got there after 7 the night. Bit of a drive.
Thursday : Rustenburg to Krugersdorp to Centurion to Randburg to Benoni.
Friday : Benoni to Witbank and back to Benoni.
Saturday : Benoni to Standerton to Bloemfontein and down to Port Elizabeth
Sunday : PE to Knysna. Shortest leg of the lot.
And then the next Thursday we drove back home. A total of 4435km, seven tanks of diesel totalling 285 liters for a consumption of 6.4 l/100km (The VW Golf computer reported a consumption of around 5.5 l/100km on Caltex and Total, and 6.5 l/100km on the one tank of BP I put in. It lies by about 0.7 l/100km).
Why? Because I like driving up. (Really! I'd like to drive up twice a year or so if I could.) And because I had to collect stuff which is too heavy to fly down easily, and because there are people up there I like seeing now and then, and because we were on our way to Knysna anyway so what's a short detour?
Tanya has the notebook, so you'll have to read more about it on her blog.
When we got back I followed up on our kitchen countertops, they were ready, and I picked them up on Friday.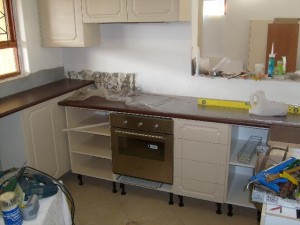 I fitted the long counter first — this involved power planing off about 5mm on the back corner on one side because of course the kitchen corners are not perfectly square.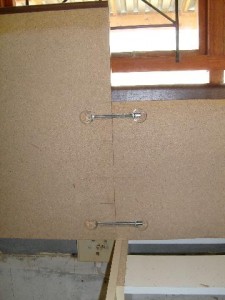 I then joined these two bits after edging the 600mm deep one. The holes are cut using a cupboard hinge drill, which fits a standard electric drill, and the slots are routed. I was extremely nervous about going all the way through, so I went 20mm in (I could probably have pushed it to 30mm).
Perfect fit.
I tried matching the back of the counter to the (not so straight) wall, using a down-cutting jigsaw blade. My recommendation is, don't bother. My result is slightly less in line with the plaster than the original straight cut was. Down-cutting jigsaw blades don't work so well. Or maybe it's my jigsaw.
While waiting for the glue to dry, I went around sorting out door handles and locks. Just about all the handles had stripped out screws, some lock mechanisms were missing etc. I bought two new locks for Jessica and Tamsyn's rooms, and I had one lying around for Tanya's room — the bathroom and toilet don't need keys, sliders will do. Basically I filled the holes, pilot drilled new holes, and used the nicest screws I could find — brass, which is better than the chipboard screws they sell with locksets these days, but not as nice as the oval countersunk screws one used to get.
The holes for the bottom hinge on Tanya's room's door were completely stripped out, so I grabbed the 10mm dowel kit and modified a few dowels by chopping the one pointy end off.
Holes drilled out and dowels glued in. All fixed up.
On Monday I got the five cupboard and bookshelf units I ordered from Lansdowne Boards. This time I paid extra to have them individually wrapped — this will go far towards avoiding the confusion I had last time, although I've already identified two 2000×500 panels with edging all around which were nicely wrapped with the 2400 tall cupboard, but which don't appear on my packing list).
Chipboard is heavy. I had help loading up, but to unload I had to unpack on top of the Land-Rover and carry it down bit-by-bit. Kept everything together, of course :-)
Write a comment