We bought a nice prep bowl at the Muizenberg market.
Then I redesigned the kitchen, and the counter became too narrow for that prep bowl.
Then we started looking for prep bowls to fit the narrow counter, with little success.
Until we went to the Hout Bay craft market, where we found these two bowls:
We both liked the left-hand one more than the right-hand one, but due to the way the clay is fired to get the finish, the right-hand one is slightly smaller.
So we went back home to measure. And I figured that I could make the shiny one fit.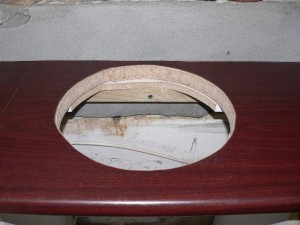 The hole is just inside the cupboard front edge, and it overlaps the batten at the back, but the bowl curves, so it fits, with a centimeter or so to spare.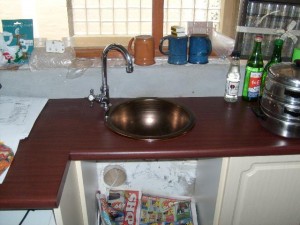 And then I could fasten the top to the base cupboards, and fit the tap. Yay!
Supper last night was spaghetti Bolognese, Michelle's recipe via Alosha. And I mixed some speculaas dough, it's in the fridge, will stick it in the oven tonight.