So we saddled up the teardrop, and headed north, half past six one Saturday morning.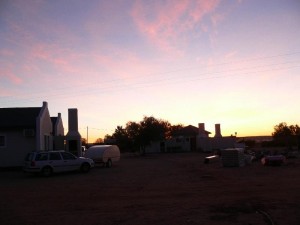 First sleepover was Grunau, a tiny little place known pretty much as an overnight stop where the great North road (B1) crosses the great West road (B3). I had booked (and paid for) the house-in-town advertised by Grunau Chalets, but when we got there they'd given that to someone else, banking on completing the new units by the time we got there… they didn't.
So the kids slept in the teardrop, and management gave me a sixpack of beer rather than some kind of a refund. And since (1) we all slept over, so I got what I wanted in the first place and (2) beer places were closed (Namibia stops selling beer at 13:00, not 17:00 like I'm used to on a Saturday) all was good.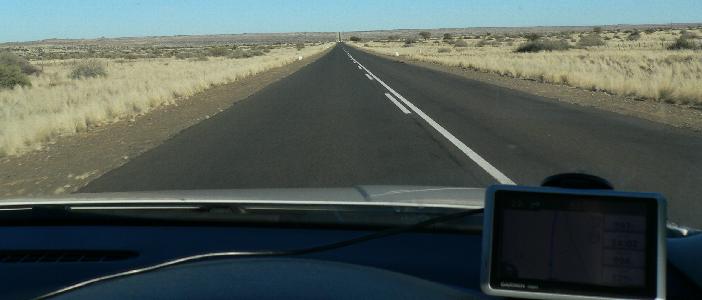 (Like the road, this post is a bit long, so here's a cutline for you)
Next day we continued along the long, straight road. This view is fairly typical — the scenery changes, but the road runs straight, through the valley, over the hill, down the valley on the other side… for miles on end.
My kind of place. Joe's Beerhouse (recommended) in Windhoek. Sunday lunch buffet is pricey at R175/head, but well worth it.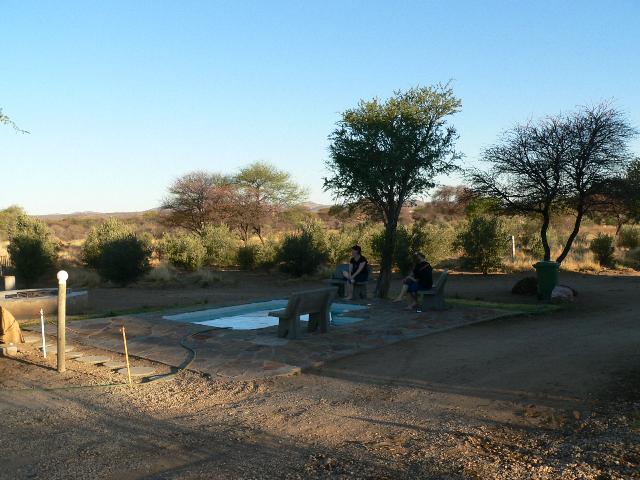 We slept over at 1000 Olives in Okahandja. Also recommended.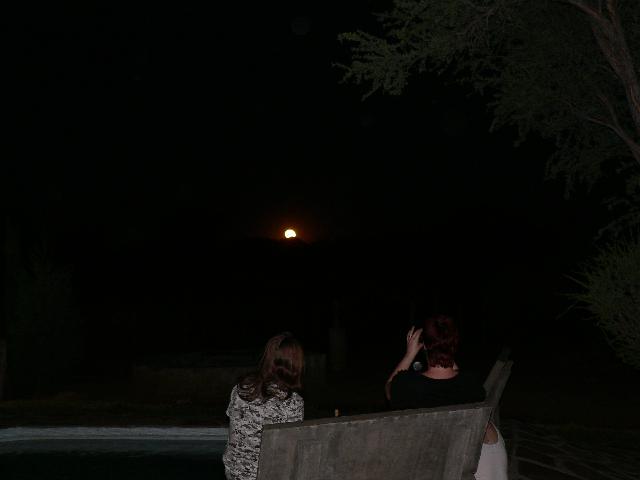 Moonrise. Google Sky (an Android app) is amazing.
And the day after that (Etosha is far!) we headed for Etosha proper.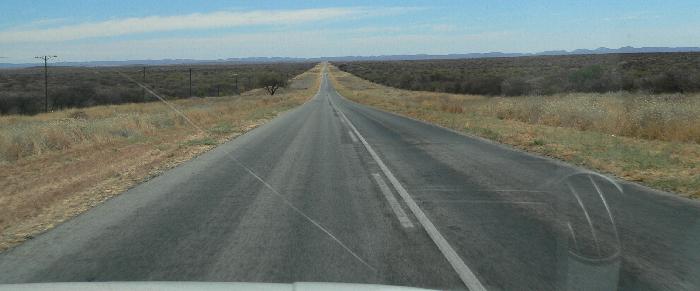 Except that some people in the car had not done their homework, and did not know that there are swimming pools at the camps. So they suddenly needed costumes. Shopping in Otjiwarongo was indicated. I guarded the car, which resulted in my wallet being stolen (from inside the car while I stood right next to it without me noticing it. Slick.)  Then we had to go to the police and to FNB to cancel my bank and credit cards. Fortunately Tanya had her VISA and fuel card, otherwise we would have been in trouble.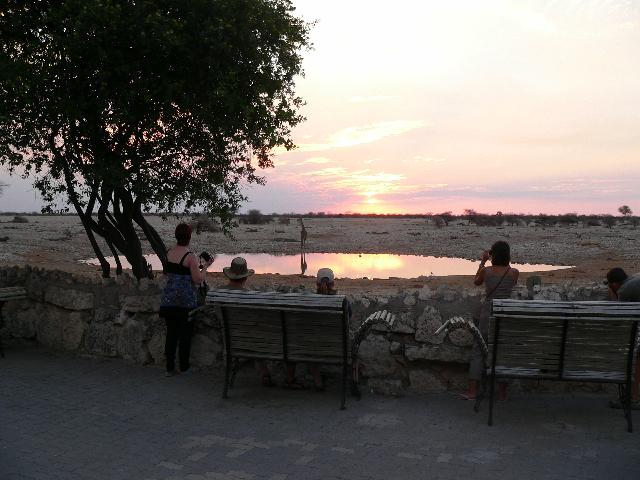 So, night three, Okaukuejo. Magic. Five rhino, two elephants, and plenty zebras, springbok, giraffes, gemsbok (oryx) and jackal at the water hole. And an owl caught a plover and strangled it to death in the tree. Life and death in Africa. Next night there were seven rhino.
Etosha's ghost elephants, Okaukuejo in the background, on the way to "Pan". They cover themselves with the white dust of the area, I guess a higher albedo cools them down a bit too.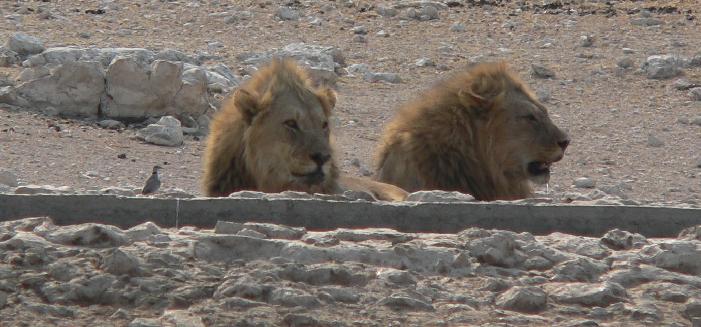 We had just left a waterhole ("Aus") when we spotted these two fellows approaching. So we went back to the waterhole, watched them a bit.
Elephant playing in the mud, close to Halali.
There was a lion in the "Salvadora" waterhole. After a while we saw two more females in the grass, and one then walked over for a drink.
Yes, this is still the same day.
Looks photoshopped, but it's not. The Okaukuejo waterhole is really just… there.
Spent three nights in Okaukuejo, then headed back home (I could post more pictures of the road, but believe me, it looks pretty much the same going back). Got home Saturday just after five. At least this time they had a room for the kids at Grunau.
4220 km at an average of  78 km/h, total trip time 53 hours 41 minutes, average fuel consumption 7.8l/100km. Towing the teardrop probably cost me about R600 of the R4000 fuel bill (fuel is cheaper in Namibia, even though it's trucked up from here, because they have less tax).