When we went to Etosha the idea was to eat at the restaurant. That was a disaster. We ended up cooking, completely unprepared.
So this time we took way too much food with us. Because it turns out that they recently revamped the restaurants at the rest camps in Kruger. These are now all franchises, and they are all excellent. You know how the restaurants at South African airports suck, because captive audience? This is not like that at all. The complete opposite.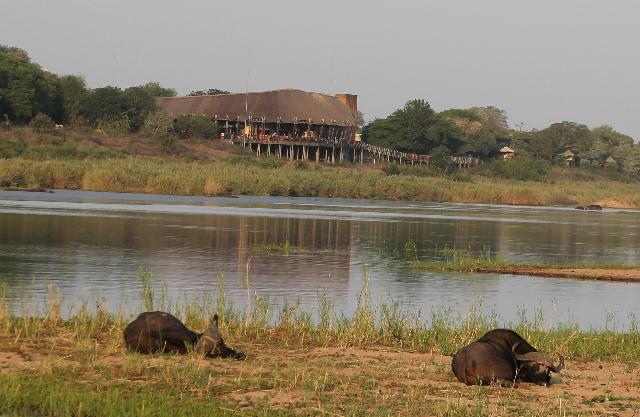 (View of Lower Sabie restaurant from the other side of the river.)
In Lower Sabie the restaurant is a Mugg & Bean. We stopped there for lunch, Tanya ordered the Sriracha Chicken, Pineapple & Avo Salad and a bottomless lemonade. I was paying attention to the wildlife, didn't notice, until Tanya's face started going red. Sriracha chicken is hot :-)
The bottomless lemonade is excellent, BTW. But I had beer.
I think the whole franchise thing makes the restaurants more expensive. But the quality and the experience is excellent.