(I'm back-dating these posts. This will probably confuse both my readers, but it will make sense in the archives. I hope).
So it was decided that we would take a trip to the Kruger National Park. At first we thought the kids would come with, but they got a better offer :-) and it ended up being just the two of us. Hey, the fewer the merrier.
Two people can fit everything and a tent in a car, but I'd already decided to take the teardrop, which still needed some more work. But all's well that ends well, so on Wednesday the 9th of December we headed north.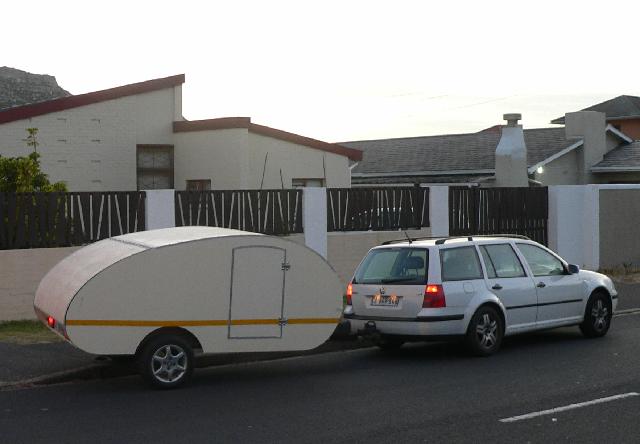 The mission: Tanya wanted to see leopards and cheetahs. Preferably leopard and cheetah cubs. Playing with one another. In a tree. Oh and maybe some lions too. And I'd never seen wild dogs so that was on my list.
Tall order, I know :-/
So being, well, me, I joined the sanparks forum and started doing research. Turns out that the Lower Sabie / Skukuza / Pretoriuskop area is the place for cats, with Satara being good for lions. Or so they say. So I went online to book (the online booking is excellent. Possibly the best I've encountered anywhere). This was at the beginning of July, and places were already starting to fill up. I would have liked three nights at Lower Sabie, could only get two. At this stage we didn't know whether the kids were coming with, so I booked the campsites for two people — you can change this when you arrive in camp, pay the difference.
The itinerary:
2015-12-09: Wednesday: Drive to Bloemfontein
2015-12-10: Thursday: Drive to Nelspruit
2015-12-11: Friday: Get up early, get into the park as early as possible, camp at Lower Sabie
2015-12-12: Saturday: Lower Sabie
2015-12-13: Sunday: Drive up to Satara
2015-12-14: Monday: Satara
2015-12-15: Tuesday: Drive to Skukuza
2015-12-16: Wednesday: Drive to Pretoriuskop
2015-12-17: Thursday: Pretoriuskop
2015-12-18: Friday: Spend as much time in the park as possible, leave in the afternoon, overnight at Witbank
2015-12-19: Saturday: Pick up toys first thing in the morning, head south, see how far we get
2015-12-20: Sunday: Get home
2015-12-21: Wouter back at work for a couple of days.
I didn't really have much of a plan about where to stop over — The Formula 1 (now SUN1) chain is always good, but we have the teardrop so camping it is. Somewhere along the way I googled it and came up with Reyneke Park. Phoned them, they had lots of space, so that's where we went.
Didn't even bother to unhitch the teardrop.