By now I had figured out a Cunning Plan. Since we only needed to be out of the campsite by 10, we could go out for a drive early, then come back and hook the teardrop. I don't understand people hooking their caravan and being out the gate by 04:30. Maybe they want to get to the next camp early, but the camps are not that far apart and you can't settle in before 10:00 anyways.
So we drove down the S82. Now the thing about this is that you can be thirty seconds early or thirty seconds late and you don't see the animal cross the road — there's a *lot* of luck involved. Ours panning out in the form of two hyena crossing the road and disappearing into the bushes. And did I mention the tortoises crossing the road? We must have stopped for around twenty of them in all.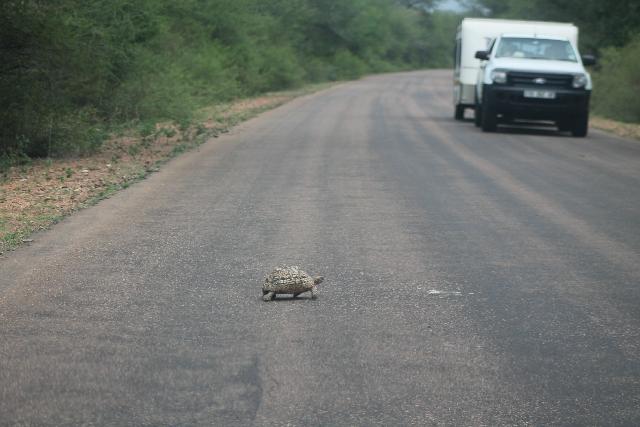 Saw these fellows hanging around, looked for lion or anything dead, didn't spot anything.
Fish Eagle (at the limits of Tanya's zoom lens).
More rhino.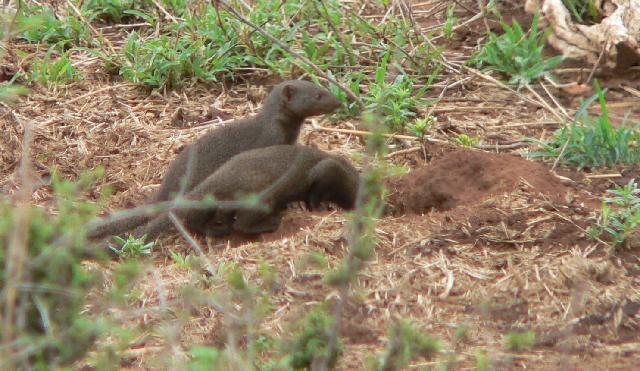 Dwarf mongoose. Cute little buggers.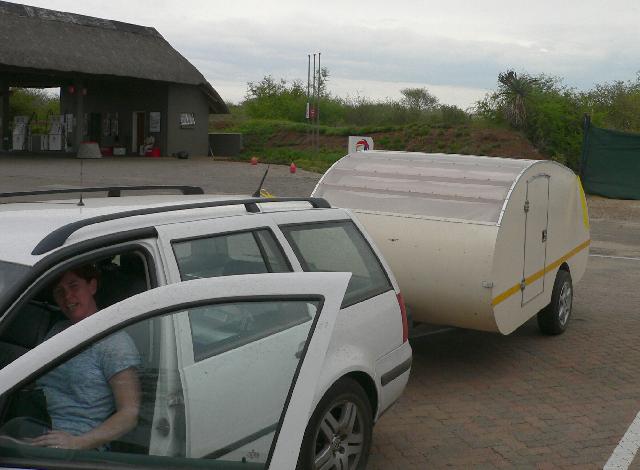 Went back to Lower Sabie, hitched the teardrop, (belatedly) attached the yellow ribbons and headed off towards Satara.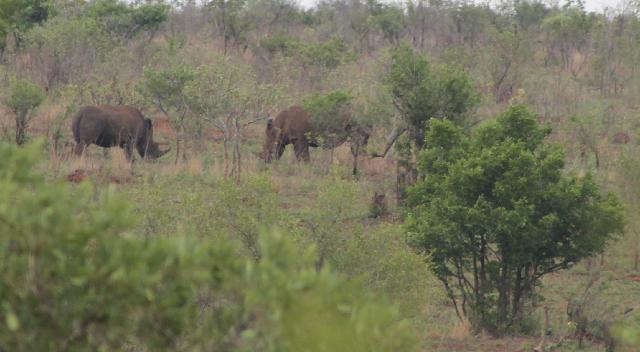 More rhino.
Not a great picture of zebra, but…
"Why are they stopped?". There were two lionesses crossing the road.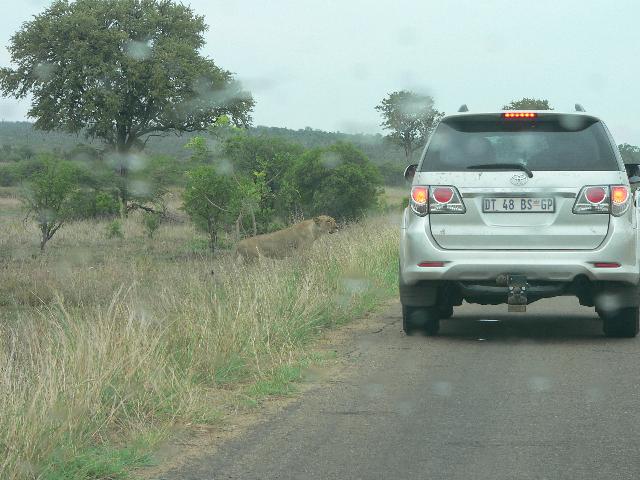 (You'll also notice that it had started raining. Makes for dull photos, but at least it broke the past few days' heat).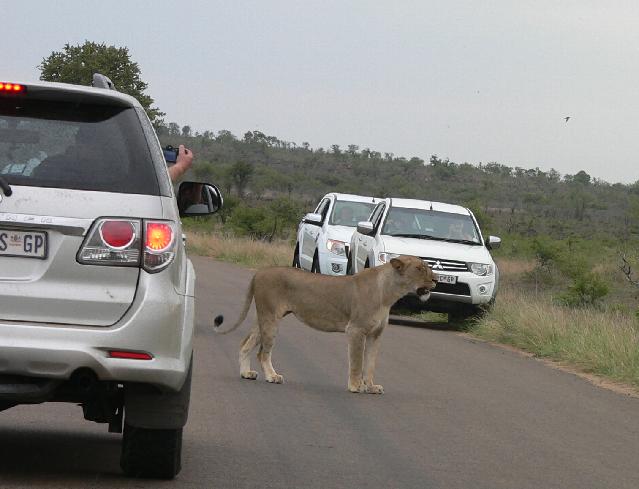 They spotted the zebra and proceeded to stalk them.
In the end they went for the little one, but a zebra can move when it's running for its life, and all five got away.
Stopped at Tshokwane, loo break, bought drinks. Just after this stop I spotted something in the bushes on the right-hand side of the road.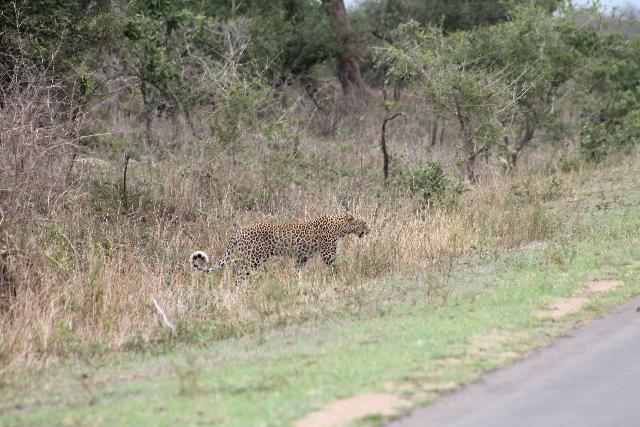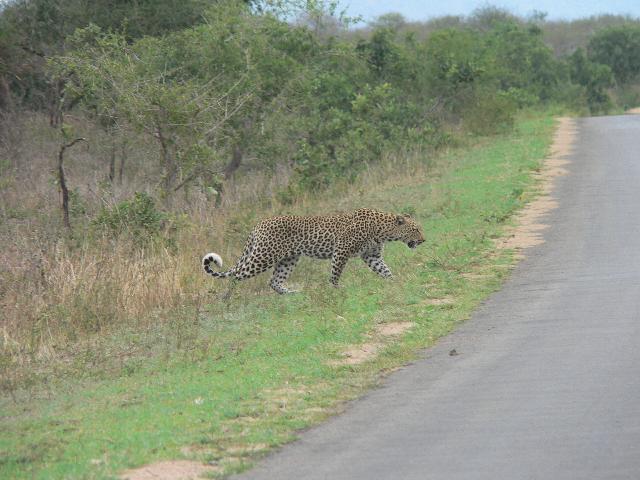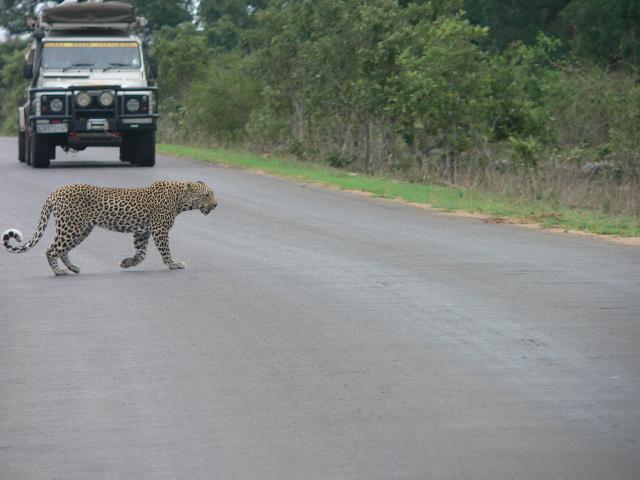 Now remember, we're towing, and for the record this towing thing is new to me. But I managed to reverse and we got pics of a leopard coming out the bush, crossing the road, then climbing a tree trunk and performing like anything for target audience: us.
My tree.
Right in front of us.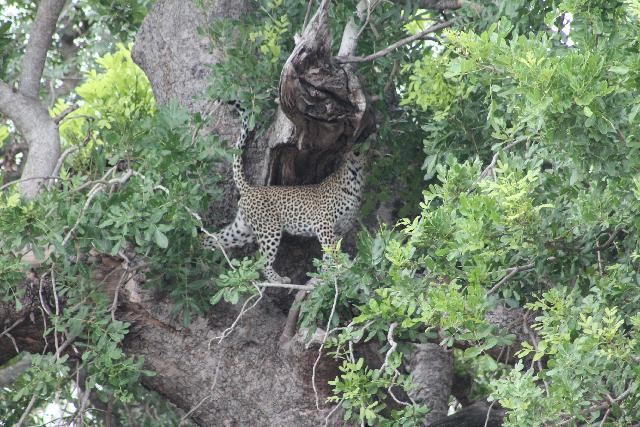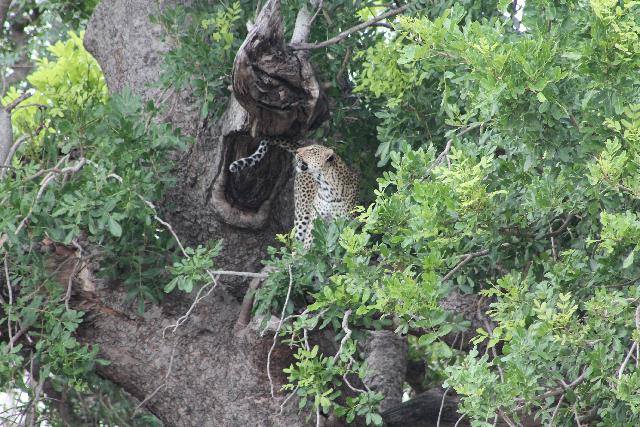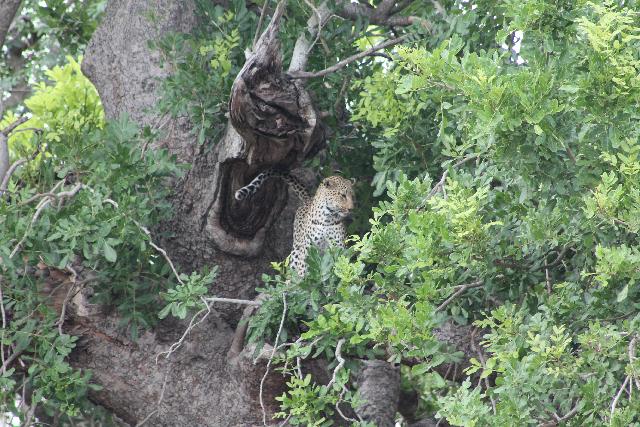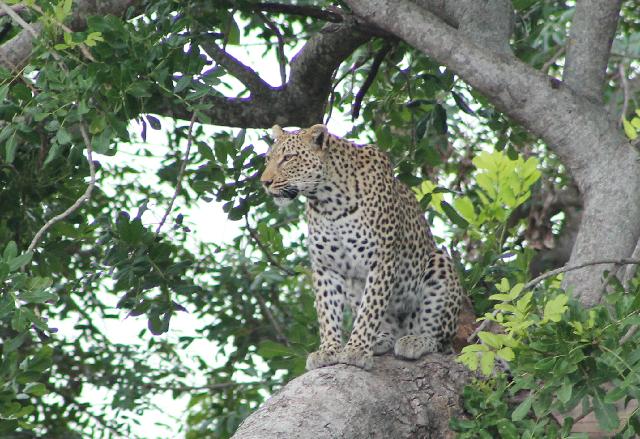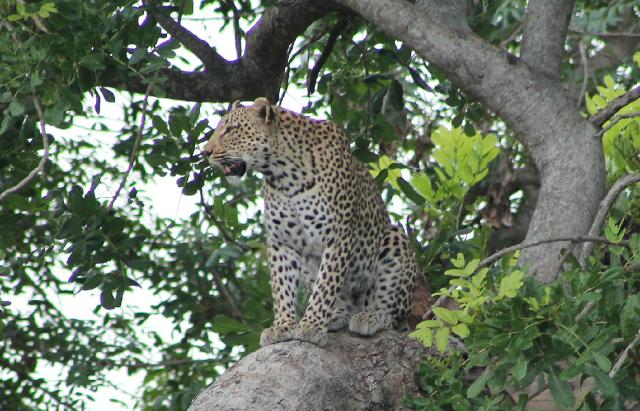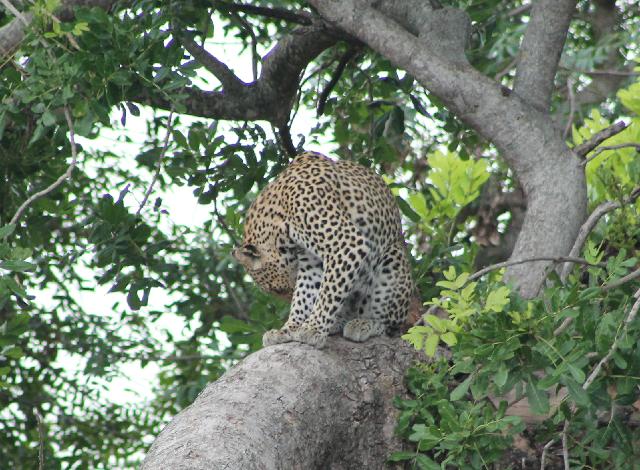 Yea, we're a little puddy tat.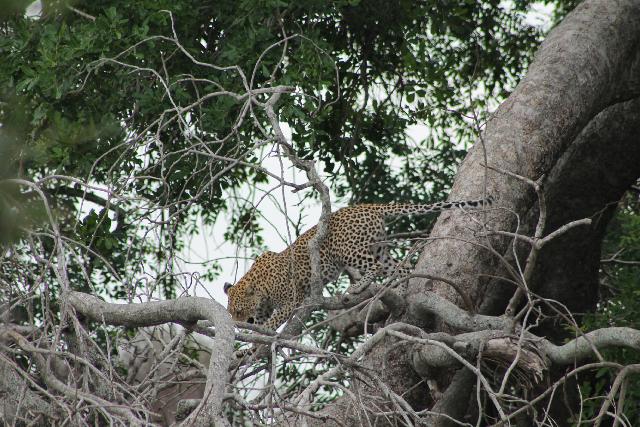 This must have been the. most. spectacular. first leopard sighting evah. We had trouble holding the cameras still, what a rush.
Proceeded on north.
Fish eagle.
Tanya was battling with her camera. Note the perfectly in-focus bush, front left. Also, a zebra mother & foal…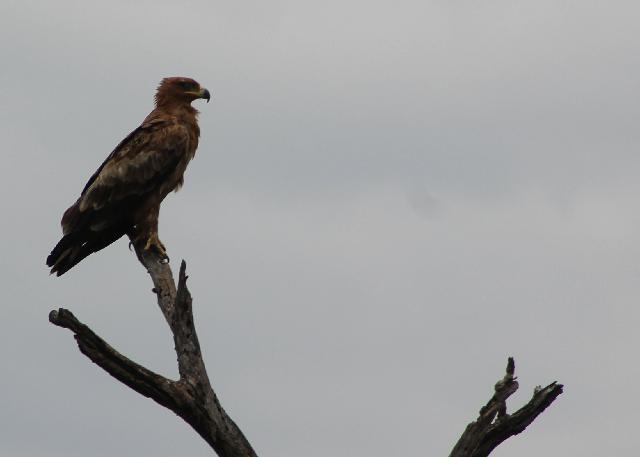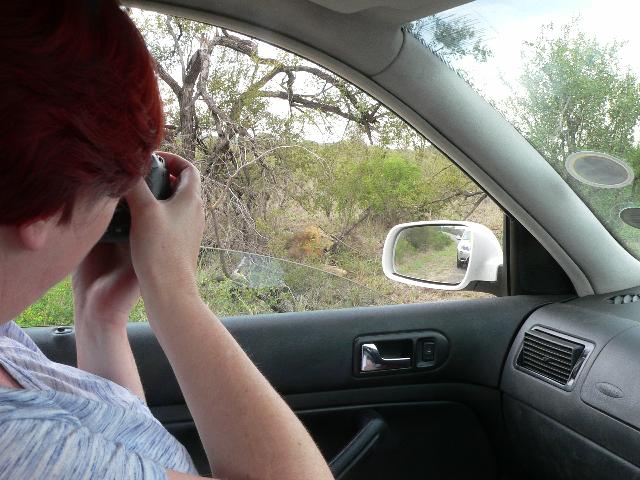 Proceeded on north. "Why are they stopped?" — young-ish male lion with a buffalo calf he'd presumably caught, right next to the road.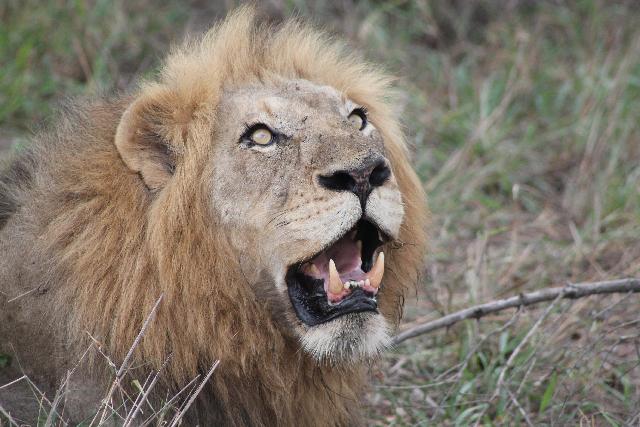 Ran into another bunch of cars just south of Satara. More lion, but hidden behind a tree to the point where some idiots are sommer parked in the bush on the other side of the tree to see better. We got to see lots more of this group of lions later.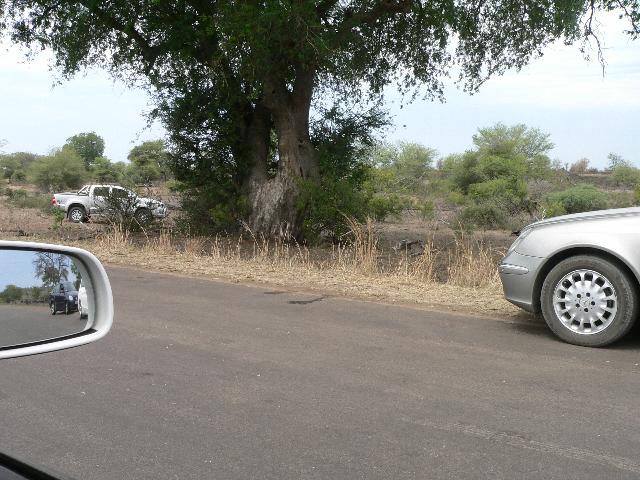 Finding a campsite at Satara is a bit iffy. Some sites have electricity, some have a braai, some even have both. The one we found had no shade, however. But this is why I bought the cheap gazebo from Game, so all was well.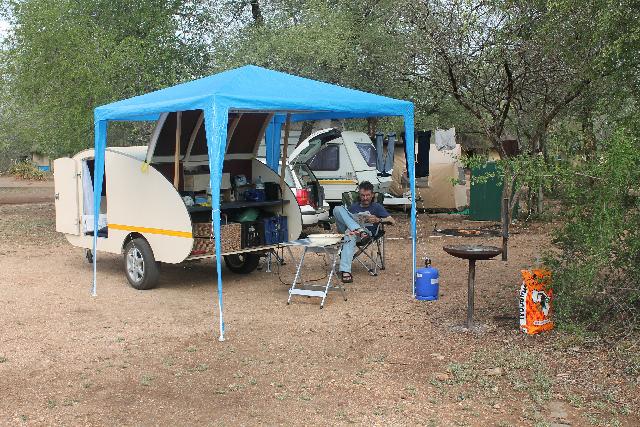 Met sparrow and Heksie, both on their way to their campsite on the wire. Didn't get a chance to chat, we went on a night drive and they were off to a hide the next night, and the night after that we were at Skukuza (where we didn't spot any yellow ribbons at all).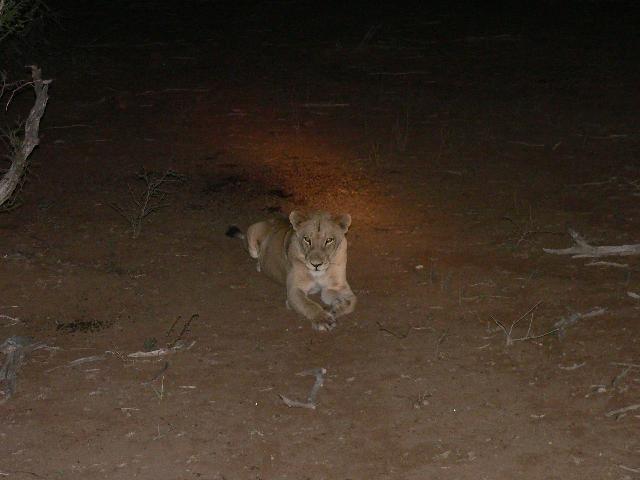 We were figuring out how to take photographs on night drives. This lioness was at the Nsemani dam — people had spotted a white lion cub there and we went to look a few times but no luck.
Eight lion, seven rhino (four might have been the same ones we saw yesterday) and a leopard.