I've been shooting high-end 45 Colt loads* in my Freedom Arms revolver, because that's the only brass I had. Until today — I finally found some pukka factory 454 Casull ammo.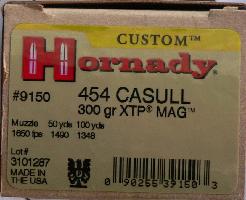 Hornady 300 grain XTP at 1650 fps claimed muzzle velocity. I didn't get a chance to chrony the actual velocity though. Price was good — RRP is something like $35 / box in the 'states, and I got these for R350, and that includes 14% VAT (current exchange rate is about R9/$ but these were probably brought in at closer to R8/$).
Acceptable Combat Accuracy…
I shot five shots, then played with my M30PK 9mm a bit. After that I invited one of our range officers to shoot the thing, his shot was the topmost on the above target. After some persuasion, the range officer in training then made that hole in the bottom corner… he certainly did not bring his part.
I finished the cylinder. Shots are all low because notice the front sight? It's taller since the gun shoots way high with the abovementioned 45 Colt load.
This isn't really a gun for standing. The barrel is way too heavy, very difficult to hold the sights steady. And the trigger is fairly light, which is good for Creedmoor but not so much for standing.
Edit, Monday morning. Well, I can certainly feel my wrist this morning. This is not a gun for a lazy afternoon of plinking, at least not with full power ammo.
*  255 grain cast bullet chronied at 1160 fps — factory spec for a 255 grainer is just under 1000 fps. The same bullet can be persuaded to clock around 1600 fps in a 454 Casull.